Looking for the Perfect Halloween Costume? Google's Interactive "Frightgeist" Tool Helps You Find the Most Popular Halloween Costumes Locally & Across the US!
Home » Blog » Halloween's Hottest Trends, Little Ghost & Ghouls Corner , Washington DC Haunt News, Halloween Headlines
October 25, 2017 By Cait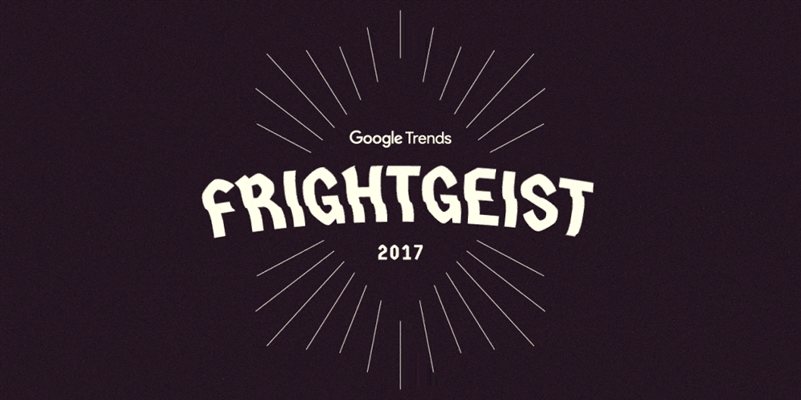 Scaring Up a Good Costume This Halloween is Easy with Google's Interactive Frightgeist Tool!
Photo by:
Google Frightgeist.
Still haven't picked out your Halloween Costume yet? Not to worry, Google's got you covered with Frightgeist, their new, interactive costume map that not only shows you the most popular Halloween costumes across the US for the 2017 Halloween Season, but they've drilled down the info so that you can get the scoop on the hottest Halloween trends locally as well! How'd Google get the inside scoop on what's hot this Halloween? By putting their data to work, of course!
Google News Labs went through the info, and found the top 500 Halloween Costume Searches in the US, and used that to create Frightgeist, which not only includes an interactive map, but a special tool to help you pick out the perfect Halloween costume for trick or treating, attending a Halloween party, or enjoying whatever Halloween festivities you plan on participating in this year!
According to Google Frightgeist, as of October 25th, the most popular costumes for Halloween 2017 for all of the US are:
Wonder Woman - No surprise here, given the popularity of the Wonder Woman movie at the box offices this Summer.


Harley Quinn - Although last year's Suicide Squad movie wasn't as big of a hit, it brought the iconic DC Comic Book character back to the silver screens, giving her a big boost in popularity.


Clown - Although clowns - both creepy and cute - have been a Halloween staple for generations, it's no surprise with the latest rendition of Stephen King's IT hitting theaters last month that Clown Costumes are on the rise for Halloween 2017.


Unicorn - Unicorns are having a moment right now - between fancy Starbucks drinks in their name, to pastel hairstyles named after them, and unicorn onsies becoming "a thing" for both kids and adults, it's no surprise that Unicorn is so high up on the list this Halloween.


Rabbit - Rabbits are always a popular Halloween costume - they're cute for kids, low-maintenance for adults, and if you're feeling spooky, a little bit of fake blood can turn your cute costume into a terrifying creature. Let's not forget the popularity of Playboy Bunny costumes, which are undoubtedly making a comeback this Halloween in light of Hugh Hefner's recent death.


Witch - Witches are always a popular Halloween costume choice - it seems like everyone's got the basics for a witch costume lurking around their house. Adding to this trend this year might be the rise in popularity of gals going as The Sanderson Sisters from the Halloween Classic Hocus Pocus, which has been making a comeback in a big way in recent years.


Mouse - Another classic costume, this is great choice for last minute costumes that don't require much to make on a low budget, which is why this costume seems to continue to be a popular favorite across the US.
Pirate - Pirate Costumes have always been a go-to for Halloween lovers for generations, and with the popularity of the Pirates of the Caribbean movies, including Pirates of the Carribeans: Dead Men Tell No Tales, which was released earlier this year, it's no surprise that Pirates continue to rank among the top picks for Halloween costumes across the US.


Zombie - Another Halloween classic, there has been a huge uptick in Zombie Costumes in recent years thanks to the overwhelming popularity of shows like the Walking Dead, and the countless zombie action flicks that have been released over the past few years. Zombies are definitely a Halloween staple that won't be going anywhere anytime soon.


Dinosaur - In a surprising upset that many weren't expecting Dinosaur Costumes beat out Princess costumes for 2017 (Princess came in at #11). With the rising popularity of inflatable costumes, and DIY creations, it's no surprise this intricate costume choice made the cut for the top 10 this year.
Still not sure what to go as for Halloween this year? Google Frightgeist has you covered! Check out their Costume Wizard tool, where you input the Spookiness Level, Uniqueness Level, Style (Classic or Modern), and set Trend Meter (National or Local), and Frightgeist will find the perfect costume for you based on your inputs! Since this tool was put together by Google, you can bet that they can help you find just the right costume for this season, so if you haven't gotten your Halloween gear together, head on over and check it out - we've got less than a week until the big day itself, after all!
What Will You Be Dressing Up as for Halloween 2017? Let Us Know in the Comments Below!