Scary-Good Holiday Horror Flicks to Get You in the Christmas Spirit
Home » Blog » Halloween's Hottest Trends, Halloween Headlines
December 1, 2017 By Cait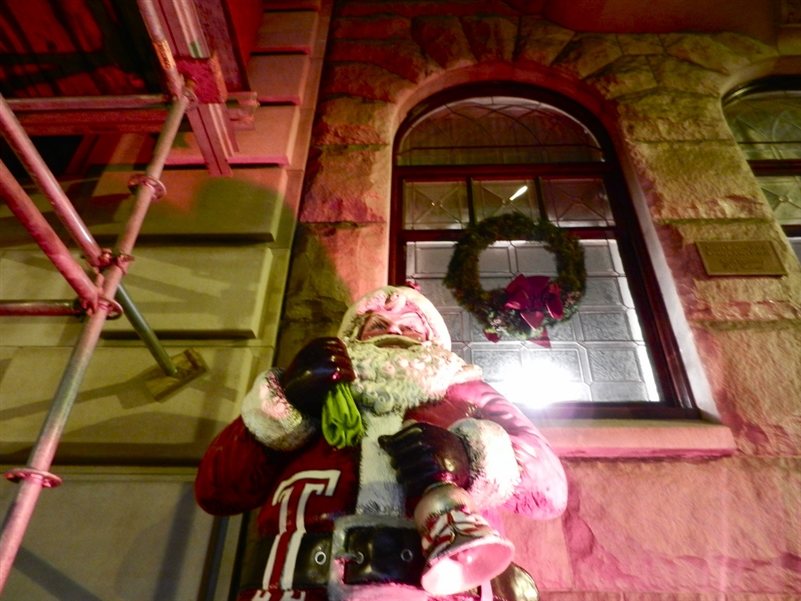 He Sees You When You're Sleeping, He Knows When You're Awake...
Photo by:
Ross Griff, via Flickr. (CC BY 2.0)
It's the most wonderful time of the year - Christmas is almost here! Whether you're gung-ho into Christmas, or it take a little bit more to get into the holiday spirit, we've got you covered - if you're a fan of horror, that is. You see, not everything about Christmas is so merry and bright - there's a ton of holiday horror flicks which even the biggest of grinches is sure to love!
Check out our Holiday Horror Picks for the 2017 Christmas Season, and get ready to have a jolly-good time this holiday:
A Christmas Horror Story (2015)

- This film is super interesting, and unique in that it's actually four horror stories (that take place in the same town, no less) woven together by a narrator, local shock jock DJ Dangerous Dan, who is played by none other than William Shatner. If that alone doesn't have you chomping at the bit to watch this one, then maybe the final story, which is a Battle Royale between Santa Claus and The Krampus, will do it for ya. Though this film is fairly new, it's definitely become a holiday horror classic pretty much instantly (thanks Bill!).



Gremlins (1984)

- Need a horror movie that's a little more family friendly this holiday season (seriously)? Well then you'll definitely want to check out the Christmas Classic

Gremlins

, which is also an iconic comedy horror flick that is fun for the whole family (mostly)! As everyone knows, if you're given an adorable pet Mogwai for Christmas, you need to follow a few rules - don't get it wet (they multiply), don't feed it after midnight (they turn into hellspawns), and don't expose them to direct sunlight (this uh, it kills them).

What happens when you do the first two things? Well, your town gets overrun by Gremlins, including a cute group of them who go out caroling in tiny Santa hats. What's not to love?



Christmas Evil (1980)

- What happens when a child is so traumatized by seeing his mom kiss Santa under the mistletoe as a child? Well, he grows up to be a nutter who decides that only he can me the one

true

Santa, and like any good whackjob, he starts doing crazy things, like spying on his neighbor's kids, keeping Naughty & Nice Lists, working at a toy factory, and just generally being as Santa-like as possible.

Now, all of this is pretty weird, but what happens when you break this delusion by mocking said Santa-phile? Well, he snaps. Unsurprisingly. And he ends up going on a murderous rampage dressed as Santa Claus, and plucking victims off of the Naughty List one by one.

You better watch out - that's for sure.



Krampus (2015)

- 2015 was a good year for holiday horror flicks, that's for sure! If you're not familiar with the legend of The Krampus, then you'll definitely want to check this one out (even if you are familiar, it's really a can't miss). Basically, The Krampus is a horned demon who accompanies Santa on Christmas Eve, and while Santa doles out goodies to those on the Nice List, he punishes anyone who's on the Naughty List - and those who don't have "The Christmas Spirit", of course.



Santa's Slay (2005)

- According to

Santa's Slay,

Santa Claus is

not

actually a benevolent guy who just likes handing out gifts - he's a demon and the spawn of Satan (Santa...Satan...get it?!) that's been cursed to deliver gifts to good children every Christmas for the past 1,000 years, but that all changes this year, because guess what? His sentence has been served, and it's time to get some payback!

The best part of this horror comedy is the festive way in which Evil Santa goes about slaughtering his victims - he drowns a woman (played by none other than Fran Drescher!) in eggnog, grandpa gets run over by a Hell-deer (picture reindeer, but evil), and men dressed up in their jolly Santa suits get mowed down by his Batmobile-esque sleigh.
What's Your Favorite Holiday Horror Movie?
Let Us Know in the Comments Below!